DigitalCD is a desktop music player compatible with RISC OS 3.1 and later (including Iyonix's 32-bit RISC OS 5).

It provides independent control panels for any connected CD drive, Internet radio and music files playlists.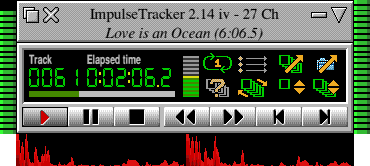 It's main features:
Plays AAC (ADTS or MP4), MP3, Flac and Ogg Vorbis files or Internet Radio.

Plays ArcTracker, Coconizer, Desktop Tracker, Digital Symphony, MatrixTRK, The Xperience, Digital Tracker (DTM), Graoumf Tracker(GTK, GT2), SoundTracker (MOD), ProTracker (MOD), Art of Noise (AON, AO4, STC), DIGI Booster (DIGI), DigiBooster Pro (DBM), Future Composer (SMOD, FC14), Oktalizer (OKTA), OctaMED (MMD), Asylum (AMF), DSMI AMF (AMF), Composer 669 (669), DigiSound (DSM), DSIK (DSM), DigiTrakker (MDL), Farandole Composer (FAR), FastTracker2 (XM), Image Orpheus (IMF), ImpulseTracker (IT), MadTracker (MT2), MultiTracker (MTM), PolyTracker (PTM), ScreamTracker (STM), ScreamTracker3 (S3M), Ultra Tracker (ULT) and X-Tracker (DMF) tracker files.

Plays Armadeus, Wave (WAV), Sun Audio (AU), Audioworks, Psion A-law, AIFF, Infocom and Creative voice (VOC) sample formats.

Plays MIDI files.

Support for CD playing with build in CD database allowing you to name the CD and CD tracks you are listening to or to retrieve the information from the net thanks to AcornCD.
Support for playlists with complete management.
Advanced replay grouping and sort/shuffling options.

The file you are currently listening to can be removed from the playlist (and from the harddisc if they are really that bad) directly from the control panel without having to fiddle with the playlist window.
Mini-bars, i.e. small versions of the control panels.

Skins to provide alternative look and feel for the control panels and mini-bars.
Visualisation Plug-ins to provide full-screen or desktop (windowed) animation of sound played through the sound DMA buffers (the current hardware doesn't allow to monitor CD output).